by Raymond Stanley Nelson, Jr.
Edited by Michael Koppa
2019
16.5 x 11.5 cm; 80 of 92 pages printed. Handset in 10 pt Century Oldstyle. Title pages feature 18 & 36 pt Huxley Vertical. Printed on Zerkall Laid and Classic Crest uv/ultra II with Vandercook SP-15 s.n. 29950. Bound by hand and tucked in one-of-a-kind covers, constructed without adhesive, featuring folios from the 1923 Specimen Book and Catalogue of the American Type Founders Company. Numbered and signed by the printer. Signed by the author. Edition of 26, $525
Prospectus
Purchase
Have a First Hand Look
If you would like to view and handle a copy of Typesetting on a Winter's Afternoon, you may do so at any of the following libraries, all of whom have generously shown their support of The Heavy Duty Press by purchasing a copy to share with you.
Millard Sheets Library
Otis College of Art & Design
Los Angeles, California
Golda Meir Library, Special Collections
UW-Milwaukee, Wisconsin
Kohler Art Library
UW-Madison, Wisconsin
Murphy Library, Special Collections
UW-La Crosse, Wisconsin
University Libraries, Special Collections
Washington University
St. Louis, Missouri
Sir George Grey Special Collections
Central City Library
Auckland, New Zealand
F.W. Olin Library
Mills College
Oakland, California
George A. Smathers Library
University of Florida
Gainesville, Florida





Typesetting on a Winter's Afternoon is built around a manuscript found enclosed in a letter received from Stan Nelson, then Curator of the Print and Graphic Arts Collection at the Smithsonian, in 1998. The story has been previously published in Parenthesis No. 3, in May 1999, within a section titled "Fine Presses in the Next Millenium."
For almost 20 years, Stan's story has been in mind as something that would make a great book project. The shop had been idle in storage since 2004, and finally resurrected in its new home, dubbed Der Klubhaus at Holy Hollow, in 2016. Seasonal full time summer employment allows The Heavy Duty Press to be active only in the winter months, and serendipitously, Typesetting on a Winter's Afternoon became the perfect project to resurrect the letterpress operation.
With permission, the original story has been slightly edited, omitting some of the more bleak perspectives regarding the outlook for the fine press movement in 1999. True to the title, all of the typesetting has been conducted on winter afternoons.
The book required three winters of production, totaling 320 shop hours. First proofs were pulled in February 2017. The prototype book block and cover were built in January 2018, and most of the printing had been completed by the end of March 2018. The last bit of printing wrapped up in December 2018, and the binding was executed between the winter solstice of 2018 and the spring equinox of 2019.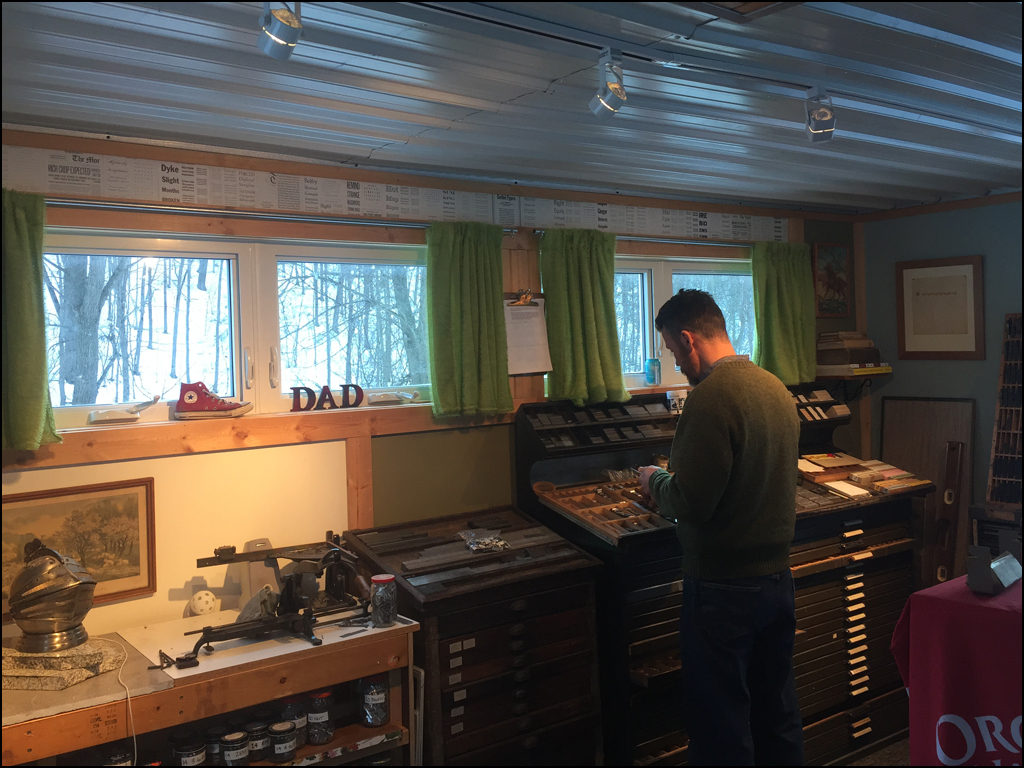 ---
Photodocumentation of the Production

January 2017, type locked up for pulling proofs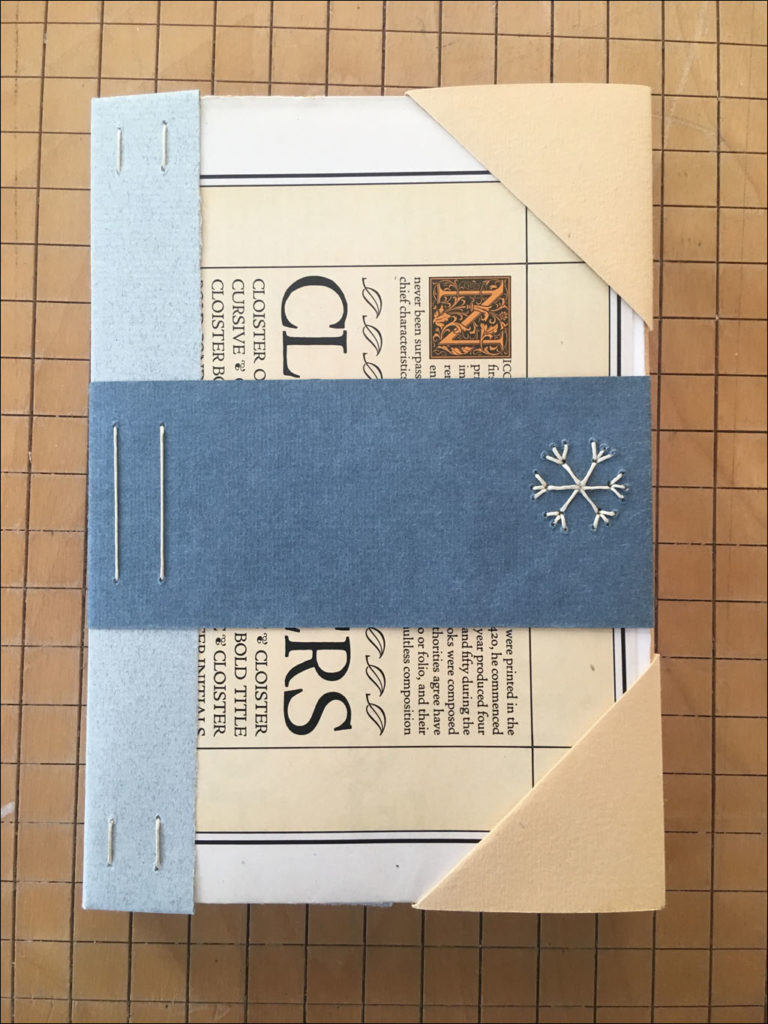 January 2018, cover design development

January 2018, deconstructing the bible for parts to build the covers

January 2018, discovery of a living bookworm in the binding during deconstruction
5 January 2019
Printing began on 1 March 2018, and mostly completed by the end of teh month. The last of the printing snuck in before the Winter Solstice. The cutting of the sheets (by hand held knife), and the folding of the folios started during the final week of 2018, and finished on 3 January 2019.

1 March 2018, lock-up for printing the black ink of the title page.

23 March 2018, printing snowflakes on the title page.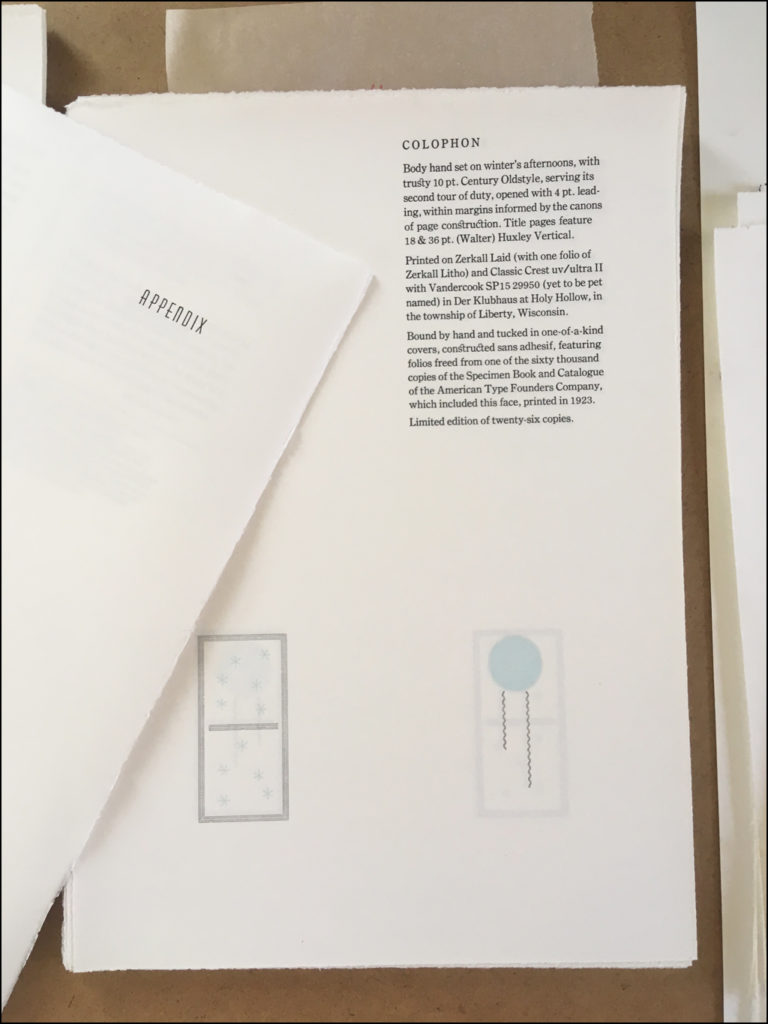 5 May 2018, the appendix/colophon folio, with black, silver, and light blue inks printed.

21 May 2018, title page on the cylinder of the Vandercook Press, as the bronze/brown acorn weights and hands of the clock are printed.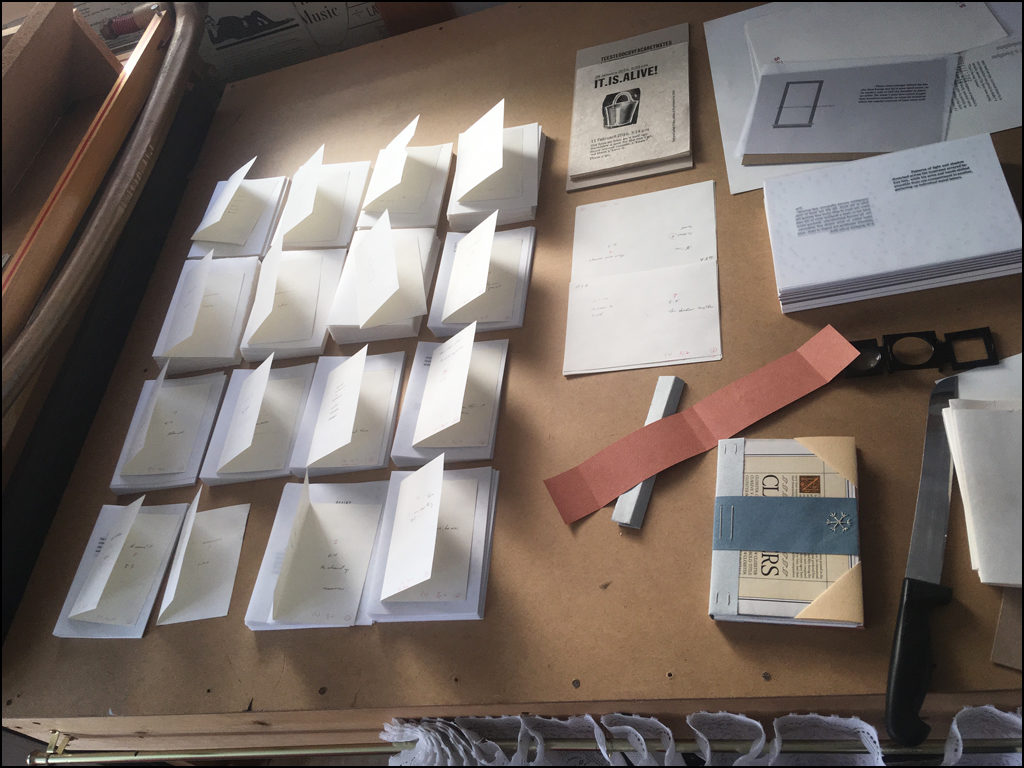 28 December 2018, all folios of Zerkall Book cut and folded, alongside 7 of the 12 folios on the translucent UV/ULTRA, waiting for collation.
5 March 2019
It's been a heck of a winter here in Wisconsin—a sub-zero week in late January and snow day after snow day throughout February. Despite an extraordinary amount of time given to moving snow and hiking the trail network on the hillside outside Der Klubhaus at Holy Hollow, the binding of all 26 copies is complete, the prospectus (plus The Annotation to the Declaration of Orientation) has been printed, and 12 covers for Typesetting on a Winter's Afternoon have been built to take to the Manhattan Fine Press Book Fair on Saturday, 9 March.
The original prototype, built early January 2018, with blue band and fancy snowflake stitch.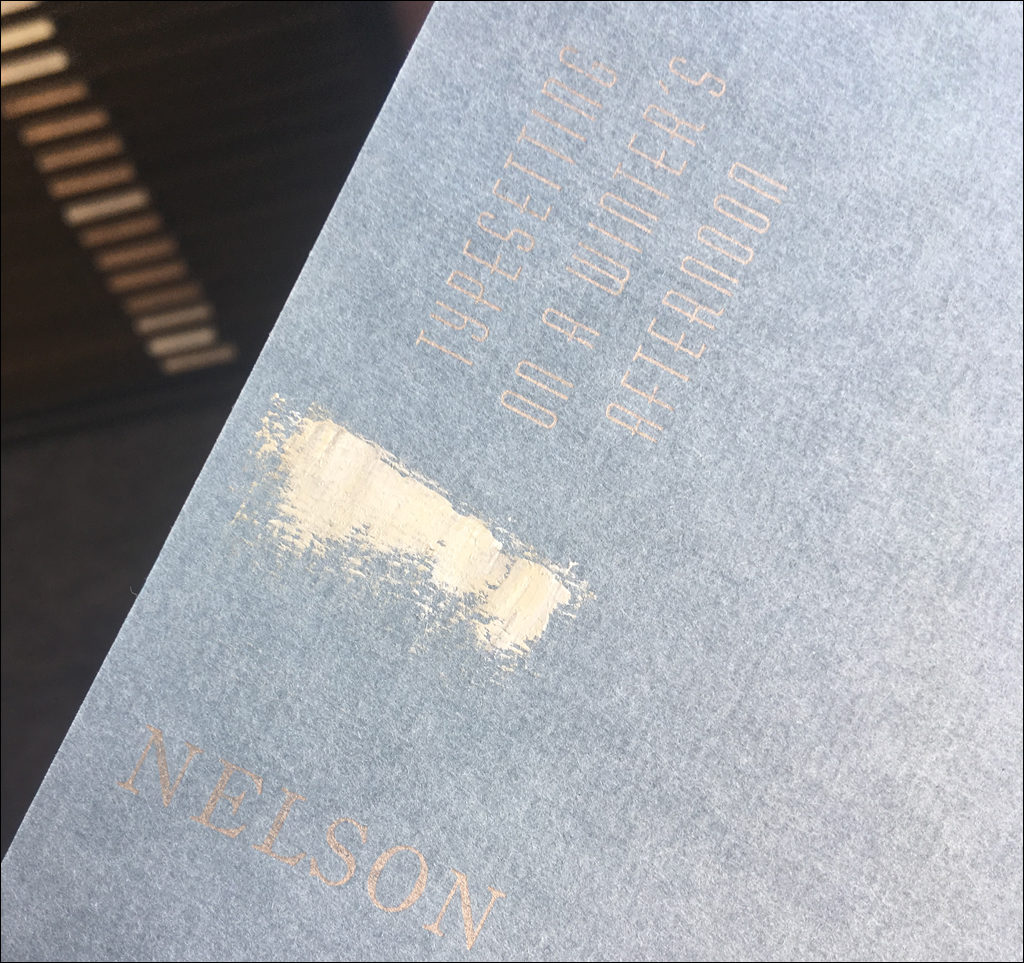 The silver ink on blue paper shows up better in this photograph than it did in real life. For a moment I was kicking myself because I've been down this road before (Becoming Flight, 2004) and I should have anticipated this.
Curious just to see the typography to check for letter spacing, especially within Stan's name on the spine, a proof pulled on Classic Crest Super Smooth lead to the proverbial A-ha! moment. The cover suddenly became much cooler (to my eyes) than it was before I got stuck. This goes to show how sometimes we just don't think about something until we see it.
And now we get into filling out all that white space to create a very pretty band to wrap the covers of the book.
25 February: major deconstruction of the 1923 Specimen Book and Catalog of The American Type Founders Company to harvest an abundance of folios, from which to glean the best for front and back cover board wraps.
Here's a fun exercise: dividing the selected folios into front and back covers, and then sorting to create pairs.
3 March: With a little help from Victoria, 11 covers are well on their way with wrapped cover boards stitched to spines, and 2-part cover bands stitched to covers. Some inventive slotting came out of the process of figuring out the most efficient way to put these together (not shown); further evidence that given time, a book will eventually design itself.
Monday, 4 March 2019: 12 copies of the book completed and ready to pack up to display at the Manhattan Fine Press Book Fair on Saturday.
Thank you for your interest in this project.