Collaborative Collages/Various Artists
2015
6.625 x 5.125 inches, laser printed in full color on acid free coated 80 lb. text weight paper, 40 pages + cover. Hand stitched, limited edition of 26 signed and lettered copies (A-Z).
Monster Trust is a story about collaborative collage told by collages collaboratively created by nine North American artists. The book includes an essay about the collaborative experience. The collages are posted on misterkoppa.com, half of them here, and the other half here.
Collaborating artists include:
Nikki Soppelsa (Berea, OH)
Susan Ringler (Darlington, MD)
Kat Silver (Indianapolis, IN)
Cory Peeke (La Grande, OR)
Laura Collins (Chicago, IL)
Travis Medford (Asheville, NC)
Jesse Treece (Seattle, WA)
Zach Collins (St. Paul, MN)
Tracy Jager (Vancouver, CA)
Download the free ebook version of Monster Trust
Ebook pdfs from The Heavy Duty Press are best viewed on a full size screen with Adobe Acrobat Reader, in full screen mode. To do so, click the link, download the pdf to your hard drive, and open with Adobe Acrobat. Share freely.
---
How and Why It Happened
Monster Trust is the end result of a project that began with a simple request to participate in a collage collaboration with Zach Collins (St. Paul, Minnesota). At the time, it seemed all the rage; every day I saw a new collaborative effort between Mr Collins and some other collagist in my Facebook feed.[1]
I was anxious to join the party.
One thing led to another, as things do, and before long there were two 9-piece collaborative efforts in progress, and nine additional artists were added to the mix—artists who were strangers to me, if not for the virtual "friendships" established through Facebook.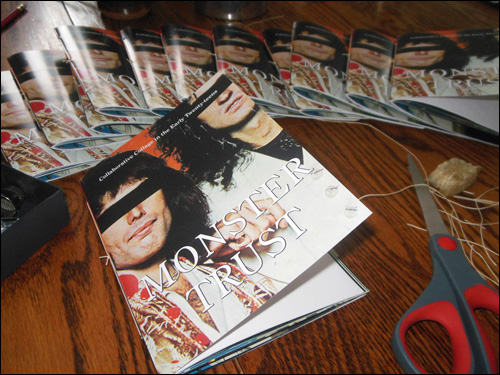 Over the course of about a year, all things came together and found their way back to Viroqua, Wisconsin. The finished works were scanned and arranged in a paginated sequence, telling the story of their travels all over the United States and up into Canada. It is a story of Monster Trust.
[1] Check out Zach Collins's documentation of his collaborations in his book, We Said Hello and Shook Hands. Strongly recommended.