Cocobopro No. 2
with Gary Ortman
Please Be Seeded
2017
Number 2 in a series of collaborative collage book projects. 36 pages plus cover, digitally printed with 20 collages by Gary Ortman and Mike Koppa, hand bound with a simple 3-hole pamphlet stitch. Jacket is letterpress printed on Stonehenge, with hand set ATF Century Oldstyle type. Limited edition of 26 signed and numbered copies, available only upon completion of the first 5 Cocobopro projects, and as a boxed set.
Download the free ebook version of Please Be Seeded
Ebook pdfs from The Heavy Duty Press are best viewed on a full size screen with Adobe Acrobat Reader, in full screen mode. To do so, click the link, download the pdf to your hard drive, and open with Adobe Acrobat. Share freely.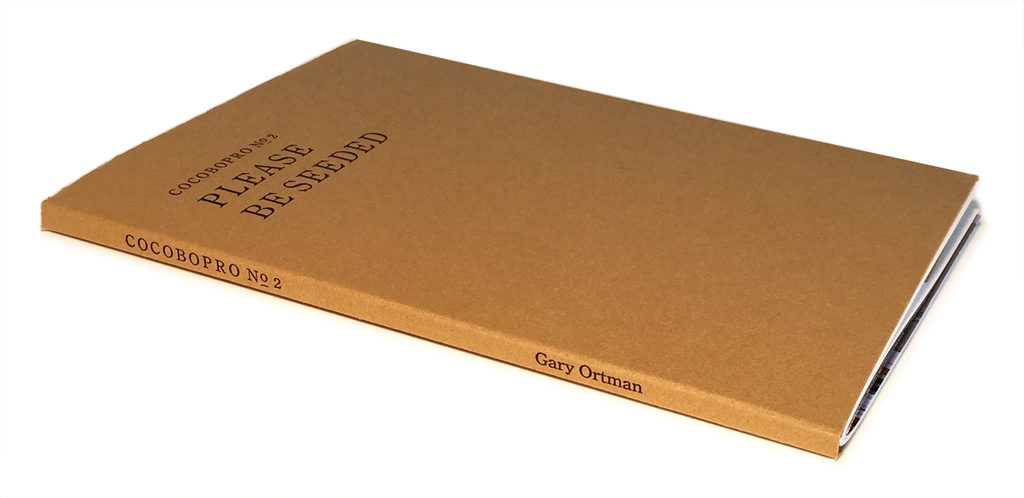 Collages for the Cocobopro books are created according to a simple 7-step[1] process:
1. An artist is invited to work up ten 2-sided 5″ x 7″ cards (mat board) to whatever level he or she wishes, in whatever style, using whatever technique, and sends them to me in the mail.
2. I work on the them and send them back.
3. The guest artist works on them a 2nd time and returns them to me.
4. I work on them a 2nd time and return them to the guest artist.
5. The guest artist works on them a 3rd time and returns them to me.
6. I work on them a 3rd time and return them to the guest artist.
7. The guest artist finishes the collages, and returns them to me for scanning.
During the exchange, the collages are put into a sequence, imagining them as serial pages in a book.
When I receive the finished collages, I scan the images and lay them out in book format, create an ebook for free download, and send a press-ready file electronically to my local business printer, where the digital images are reproduced as book pages and returned to me for hand-binding. After binding, the booklets are returned to the printer for trimming the fore edge, and letterpress printed jackets are printed at Der Klubhaus to protect the booklets. When the first 5 Cocobopros are completed, they will be offered for sale a boxed set.
[1] International collaborations are only 5-steps, instead of 7, to keep the postage expense reasonable.